HVAC Repair in Gonzales, LA
For all of your HVAC and refrigeration repair needs in Gonzales, Brittany, Dutch Town, Geismar, and Prairieville, LA and the surrounding areas, put your trust in Louie's A/C, Heating & Refrigeration Services, Inc. For more than 40 years, our HVAC repair contractors in Gonzales, LA have been providing comprehensive solutions to all of our customers, and we've earned a superior reputation for our workmanship and customer service. "If we can't fix it, it can't be done!"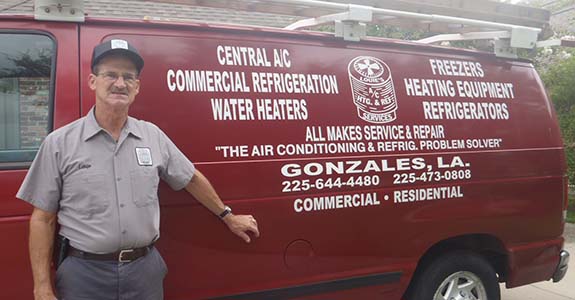 Superior Refrigeration and HVAC Contractors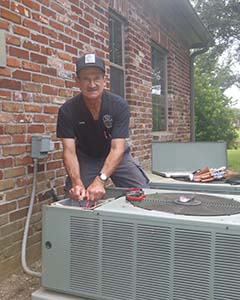 When the heating, cooling or refrigeration in your home stops performing at the level you expect of it, your quality of life is bound to suffer. Don't let HVAC issues affect you in the place where you live—instead, contact Louie's A/C, Heating & Refrigeration Services, Inc. to get the problem solved quickly and thoroughly! Our HVAC company fixes just about anything having to do with your heating, cooling or refrigeration and we stock most of the parts required for repairs, cutting down on time spent working and getting you back to a superior standard of living faster! Whether it's furnace service or refrigerator maintenance in Gonzales, LA, know that we're here to help.
What sets us apart from other contractors is more than our willingness to work on anything and everything: it's our ability to do so with a tenured expertise! We've been in business as an HVAC company since 1978 and along the way, we've learned the superior techniques of the trade. Each and every time one of our technicians approaches cooling or heating repair in Gonzales, LA, they do so with a refined understanding of what needs to be done to restore full functionality, superior efficiency and longevity to your installation. Our goal is your comfort, and we'll do whatever it takes to accomplish it. Take a look at just a few more reasons we're so widely trusted for HVAC repair and refrigeration services: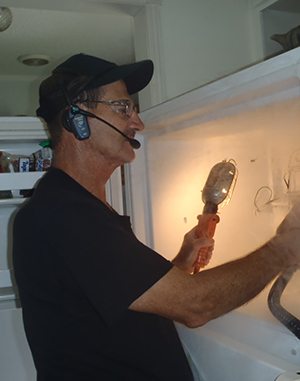 We've been in business since 1978.
We have our HVAC contractor's license for the State of Louisiana (#45078).
We're locally owned and operated in Gonzales, LA.
We have 98% of repair parts in stock and on hand, for quick and reliable repairs!
We're known as the refrigeration and A/C problem solvers!
Louie's A/C, Heating & Refrigeration Services, Inc. has 98% of the parts in stock for quicker repair service. Our HVAC company offers a complete range of services, including work on your water heater, fridge, air conditioning repairs, freezer, GE/Hotpoint/RCA, central heating, HVAC system, and MUCH more.
---
Get a Service Quote Today
If you're having A/C, heating or refrigeration problems and need a reliable solution from trusted industry professionals, waste no time in contacting us today! We're happy to provide you with a quote on furnace and water heater repair and more!
We proudly service the areas of:
ASCENSION PARISH:
Brittany, LA
Burnside, LA
Darrow, LA
Donaldsonville, LA
Dutchtown, LA
Galvez, LA
Geismar, LA
Gonzales, LA
Prarieville, LA
Sorrento, LA
St. Amant, LA
LIVINGSTON PARISH:
French Settlement, LA
Head of Island, LA
Maurepas, LA
Port Vincent, LA
IBERVILLE PARISH:
ST JAMES PARISH:
Convent, LA
St. James, LA
Gramercy, LA
Lutcher, LA